Max:
Hey Lilly smile at the birdie!
Lilly:
Mmm that birdie made me do more than just smile!
Max:
Hello Sexplorers welcome to this Carnal Chameleon audio review. I'm Max Chameleon
Lilly:
And I'm Lilly chameleon.
Max:
Today we have a very special bird from Twin Tail Creations. Now Twin Tail Creations is one of my new favorite shops. They do really high-quality silicone toys. The bird in question is Cortez the anthro avian, which is a bird themed toy.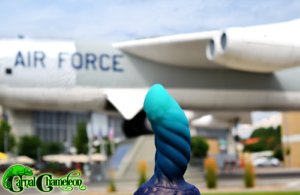 Lilly:
It's beautiful but it doesn't have any of those talons that are gonna scratch you!
Max:
God I would hope not! The colors on this toy are amazing so we ended up with the colors you can see them on the website, it starts off at this beautiful light blue fades into a turquoise and then into a dark blue at the base. When you look closely at you can actually see there's like a light kind of shimmer or sparkle in there. It's just really fluid color transitions really great looking.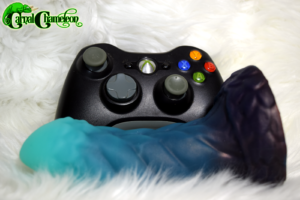 Lilly:
It really is and you know what? I'm all about the colors!
Max:
Today we're reviewing the small size which has a usable 5 and a quarter inches and at it's thickest part it's about a 2.5 inch diameter. There's some incredible detail in the texture of this toy. The top part of the head has these round feather-like assortment of bumps that kind of give way to diagonally dropping ridges along the top side of the shaft which meet again on the underside of the shaft and kind of create these, little feather like, diamond bumps. Great for grinding; there's feather like texture along the base of the toy that if you can get down that far you can kind of rub yourself against and it's really great. From my experience the tip was gradual enough that it was easy enough to get the tip of Cortez in. I did have a little bit of difficulty after the glands due to the fact that the toy's a bit front loaded. Meaning that it's bit thicker. The shaft is a bit thicker at the top than it is at the bottom. Once I was able to get past that though with my pansy pooper, I was able to have a really good time on the ripples. I wasn't able to perform the barrel roll maneuver (rotating the toy) without coming instantly! Lily what did you think of this toy.
Lilly:
Cortez? I enjoyed immensely. The curve of Cortez is fantastic for hitting the g-spot, which I'm a g-spot whore! love it. And the ridges were fantastic to actually grind against. I enjoyed being able just to just lay the toy down and grind against these ridges on the underside, right by my clit. Now as far as getting Cortez inserted… because my vagina's just a little bit smaller than average, I wasn't able to get the full length of Cortez.
Max:
You mean your Depth?
Lilly:
My depth, yes. I wasn't able to get the full length of Cortez, but for what I was able to get in I had an amazing time. Now I did try it in my back-end and like Max I do have a small pansy pooper and I was only able to get the tip in, but that was enough for me to go absolutely crazy.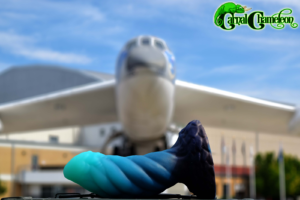 Max:
I'm sure. You know it can take some work to get this toy in the back-end, but once you do it's nice because then you can take the full length without having to worry about the depth.
Lilly:
Exactly.
Max:
I just noticed as I'm holding the toy here, there's this great detail that I hadn't noticed before, which is actually the small hint of veins along the shaft of it. Especially on this backside here.
Lilly:
Oh, my goodness you're right!
Max:
It's just incredible with Twin Tail Creations your toys will end up having this detail that you don't even notice right off the bat. You just look at it and wow! It's really great work. You'd have to be a bird brain not to give Cortez the anthro avian a shot!
Cortez the anthro avian was provided free of charge by Twin Tail Creations in exchange for our honest review