Transcript
I scream, you scream, we all scream for Intimate Melody Lana!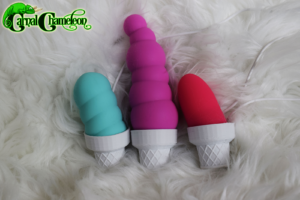 Lilly:
Hello and Welcome to this Carnal Chameleon audio review. I'm Lilly chameleon
Max:
And I'm Max Chameleon
Lilly:
What we're talking about today is the Intimate Melody Lana. It is a three in one package, silicon bullets and one handle. Now this toy by Intimate Melody, I was really hoping for, you know… because the name Intimate Melody made me think of having an amazing orgasm that just makes me want to sing out to the world! But unfortunately it kind of fell a little flat for me well you know I know that you do like your bullet vibes but I suppose they probably don't have that much power right?
Lilly:
No there's not that much power at all. It actually just has… it says that it's rechargeable but that's only if you have rechargeable batteries, because it does take two AAA batteries and you do have one button that controls the seven different types of vibration. Now the problem I have with that is I'd rather have an on and off switch, not just one button. Because as we all know with vibrators, you hit the button and then you have to cycle all the way through to find the one you want.
Max:
And then is that for off too? You have to like…
Lilly:
Yeah but you have to hold it to go off.
Max:
Oh I see okay.
Lilly:
So it can get really annoying. Now as far as a little bullet vibes themselves, they're beautiful. They're so soft, this is probably one of the softest toys I've ever felt.
Max:
Pretty cool colors too.
Lilly:
They come in these wonderful pastel colors, perfect for spring.
Max:
They look like little ice cream cones!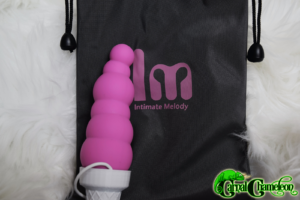 Lilly:
They do! They do, actually that's what made me do that actually because they look like tops of little ice-cream cones. Now as far as the packaging, they come in this really nice… What kind of bag is this?
Max:
A little carrying case, a little carrying bag.
Lilly:
Yeah it's really cute.As far as the toy goes it really just unfortunately fell flat for me. So it unfortunately fell flat for me so it one place and then on the site it says that its water… 100% waterproof in another. So I'm not quite sure if it's water resistant or waterproof, I never actually tested it in the water because anything on the inside of the toy.
Max:
Yeah, it's been an issue with some of the Satisfyers lately I've heard.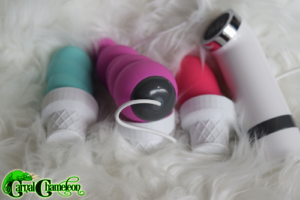 Lilly:
Right especially because the the end where the plug handle… basically It's an earphone jack.
Max:
Oh yeah! So on that note why don't you tell us about how you change between the 3 bullets?
Lilly:
Well, basically it's as simple as clicking into place place and clicking out.
Max:
So you get three separate bullet vibes and you can just switch them out.
Lilly:
Yep, switch them out very easy. The cords for each of these are quite long which is pretty nice, but the long cords can get tangled really easy.
Max:
Yeah, absolutely! Well Lilly thanks for taking a bullet for us!
Lilly:
Thanks Max!
The Lana 3 in 1 was provided free of charge by Intimate Melody in exchange for our honest review