Transcript
Here comes Peter spunk-in-tail
Hopping up your happy trail
Slipperty Cockity
Easter's on its way!
Max:
Hello and welcome to this Carnal Chameleon audio review. I'm Max Chameleon.
Lilly:
I'm Lilly Chameleon
Max:
Today we have a special treat for you for Easter. It is the Primal Hardwere Bunny Butt. The Primal Hardwere Bunny Buns is one of the humpable toys that Primal Hardware has to offer. Meaning that it's a penetrable toy that you can use if you have a penis. It's got a hole all the way through, again kind of like the the doe butt that we talked about a couple of reviews ago. It has a hole all the way through it kind of like a cylinder. This toy is beautifully sculpted, it has fur grain that runs along the length of it. It even has a tail that sticks up from the back end, quite a bit actually. The fur grain runs up along that. It actually has no visible seams on it which is actually pretty interesting because usually these humpables do have seams that are pretty visible. It also has a… right below the the penetrable hole… it has kind of what I would like to call the grundle. I believe that is the technical term for it, which is the area between… if it is a boy bunny… where his balls would be and his sexy hole.

Lilly:
So, say that again its the g-g-g-g-g-rundle?
Max:
g-g-g-rundle I can't say it right!
Max:
It's actually pretty heavy for these kinds of toys, which I kind of like because in this particular case it has a flat bottom which is different from other ones, which tend to be round. So the way that I like to use this toy is lay it right down on the bed or the couch or wherever.
Max:
Or on you. And I don't have to hold it. I can just go to town on it without having to hold it or do the whole thing so that's kind of a neat feature about it. I have actually used this along with you Lilly which is really kind of great so you you wouldn't ordinarily think of these penetrable toys as a toy that you could use as a couple, but I was able to penetrate Bunny Bun's back-end hole here and Lilly was able to get up really close to me and have the tail that, again as mentioned before, sticks out quite a bit, penetrate into her. So we were able to kind of both go to town on Bunny Buns at the same time which was a lot of fun. I'd say that the only downside about the Bunny Buns is that the texture is pretty smooth. Now that kind of goes along with it being, you know, the back end of the toy because there's not necessarily a lot of texture…
Lilly:
But it would have been nice for something, because texture is where guys really like it.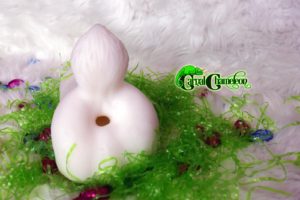 Max:
Well you know what Primal Hardware has released since we received this toy? Barley. And Barely actually has… it's pretty much the same toy but it also has a vulva and vagina. So in that actually has more texture in it so that's kind of cool! You can choose between the two bunnies; just the back end or vulva and back end. I kind of wish that Barley had existed when I had gotten this toy but this is still a lot of fun. Now what's really neat is both the Barley and the Bunny Buns are on sale through Easter for 10% off. You have to get one of the chocolate "flavors" and that includes kind of a milky chocolate, a dark brown, and white colors. So ten percent off through the end of this weekend.
If you want the Easter Bunny to visit you, between the sheets then pick up a Primal Hardware bunny humpable!
The Bunny Buns was provided free of charge by Primal Hardwere in exchange for our honest review