Max and Lilly Discuss the B-Bold by B Swish, a fun "Miso spoon shaped" vibe.
Transcript
Max: Hey Lilly!
Lilly: Yes Max?
Max: Do you wanna spoon?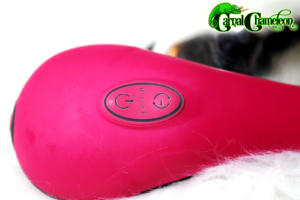 Lilly: Of course I do! let me bring my B Swish!
Max: This is Max Chameleon.
Lilly: And this is Lilly Chameleon.
Max: So Lilly why don't you tell us a little bit about the B-Bold by B Swish.
Lilly: Of course Max, so the B-Bold is a wonderful little vibrator it's made out of a 100% silicone so it's completely body safe. What's really nice and versatile about this little guy is that you can take it in the water. It is 100% water proof.
Max: Oh wow, so it doesn't have any cord or anything that needs to run to it. You charge it up and then you can use it under water.
Lilly: Exactly, It actually has a little, I guess you call it a flap at the bottom that basically covers the part where you actually have to charge it. So there's no way of water getting in. Which actually reminds me that I do need to use this with you in a hot and steamy shower. I've used it in the tub by myself.
Max: Yeah, I haven't really had much of a chance to try this out. I'm looking forward to that. Now it's made out of silicone but it has quite an
interesting shape to it.
Lilly: Yes it does. It actually, if you ever had food that had like a Miso soup spoon. That's what it looks like.
Max: It does look like a Miso soup spoon
Lilly: It does, it looks like I could just, you know pick up some noodles in it.
Max: You can't see it but she's miming eating Miso soup over here with the B Swish. But that shape is actually kind of cool because it's curvature kind of allows you to hit a couple of nice spots there, right?
Lilly: It's really a great toy especially when I'm having sex with Max because it's so ergonomic I can hit, you know, my clitoris or the premium, and I just love this toy! I can't stop talking enough about it.
However the one drawback for this toy is that for me, I like a lot of vibration, I am a vibration whore and this guy didn't have as much power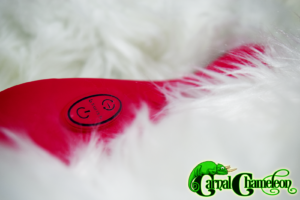 as I liked. It's a good starter toy so a lot of times when I was playing, I would start out with the B Swish B-Bold but as I got more and more turned on I would be reaching for some of my more powerful toys with a higher vibration. But for those of you that may like lighter vibration, this is a perfect perfect toy for you, or for people just you know just starting out wanting to get warmed up, It's fantastic for that as well.
Max: Now what about the different functions and vibrations, does it have a lot of neat patterns?
Lilly: Yes, it actually has seven different vibrations. The buttons on this, I have to say are a really great. From a lot of different vibrators that I use over the years, this one of the few that you can actually just hold immediately, it's almost intuitive as to which way to do press the buttons without having to look.
Max: Yeah I'm looking at it right now and it just has two buttons, one looks like a power button and the other one is for like switching the different functions. So yeah, that's pretty straightforward.
Lilly: Yeah I highly recommended it. So Max what do you think about the B Swish B-Bold?
Max: Well I haven't gotten a chance to really use it solo but I really like using it with Lilly, she will oftentimes use it on herself when we're having sex and like she said the shape of it is really useful for getting into that spot at our junction I can feel a little bit of the vibration, not too much. But she really enjoys it. I also especially love it because Lilly's been using it as her "go [to]" turn on toy. So anytime we're about to
have some sexy times this guy comes out right now because it's always there, always charged, ready to go.
Lilly: That's a great way to explain it and I just as you're holding it, it it just reminds me that also really it's small, it's not cumbersome like a big vibrator.
Max: It's not bullet small, but you know it doesn't take it doesn't take up all the space of a wand. Of course as Lilly mentioned not quite as much power as the wand. But you know, a decent maybe toy for traveling.
Lilly: Oh yeah that's a really good idea, Maybe we'll have to use that the next time we travel.
Max: Yeah absolutely.
Lilly: So yeah, thank you so much for listening this has been a wonderful time talking about the B Swish B-Bold. I know I love this toy. Thank you again, I'm Lilly Chameleon.
Max: I'm Max Chameleon, talk to you guys later!
We received the B-Bold  free of charge from B Swish in exchange for our honest review. The B Swish B-Bold can be purchased from B Swish Here.